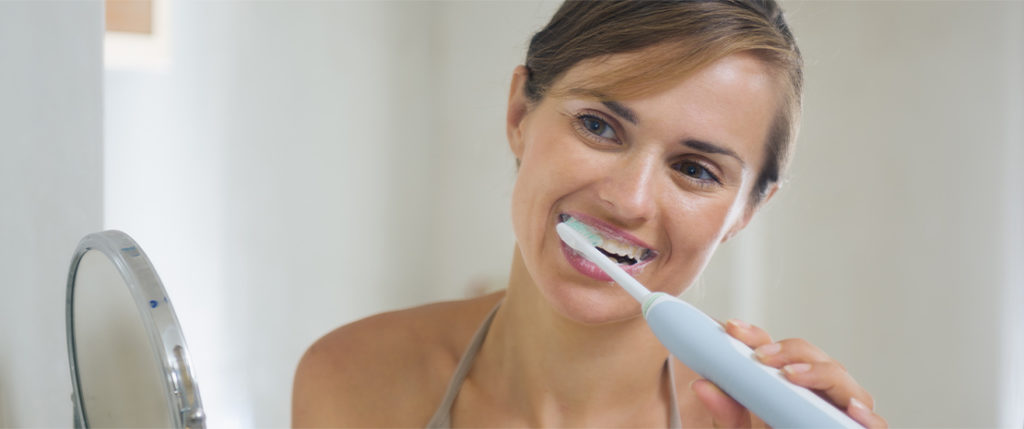 Whether you choose a manual or an electric toothbrush brushing your teeth is an important part of your at-home oral hygiene routine. To make sure your teeth stay clean and your gums stay healthy you should be brushing your teeth for a full 2 minutes at least twice per day.
When brushing your teeth, make sure you get the front, back, and chewing surface of each tooth, and don't forget those hard to reach places at the back of your mouth. 

Choosing the Right Toothbrush for Your Dental Needs
Ultimately, the best toothbrush is the one you are going to use regularly and effectively. However, manual and electric toothbrushes are quite different, and both styles have their own strengths and drawbacks. Regardless of which type you choose you should be replacing your toothbrush (or toothbrush head) every 3 to 4 months, or whenever the bristles begin to fray.
Manual Toothbrushes
One of the main benefits of manual toothbrushes is that they are accessible and affordable. Manual toothbrushes typically only cost a few dollars, making them an affordable way to help keep your teeth and gums in good health between dental visits. Manual toothbrushes are also very accessible: Their batteries never die, they never need to be charged, and you can buy them almost anywhere toiletries are sold, including drug stores, grocery stores, gas stations, dollar stores, and pharmacies.
Unfortunately, one 2012 study found that people who use manual toothbrushes are more likely to brush too hard, which can damage your teeth and gums. Manual toothbrushes also don't include a built-in timer function, so sometimes it can be difficult to make sure you are brushing for the full two minutes, and spending at least 30 seconds in each of the four quadrants of your mouth (upper right, upper left, bottom right, and bottom left). However, you can get around this by using a kitchen timer, or playing a two-minute-long song while you brush your teeth.
If you choose to use a manual toothbrush, you should opt for a soft toothbrush to avoid damaging your teeth and gums unless otherwise advised by your dentist.
Electric Toothbrushes
A systematic review of studies conducted in 2004 and published in the Journal of Dentistry found that electric toothbrushes were significantly more effective at preventing gingivitis and reducing plaque buildup than manual toothbrushes.
On top of this, an 11-year study conducted at the University of Greifswald, Germany, was recently wrapped up with the conclusion that powered toothbrushes are also more effective in reducing gum disease and increasing tooth retention than manual toothbrushes are. With the long-term evidence of this study at play, some now suggest that, overall, electric toothbrushes better promote oral health.
While anyone can benefit from using an electric toothbrush, they are particularly useful for individuals with limited mobility (such as individuals with arthritis or carpal tunnel) since they do most of the brushing work for you. Individuals with orthodontic appliances such as braces may also find that electric toothbrushes make brushing easier. Small children who are reluctant to brush their teeth may also find the activity more interesting if they are allowed to use an electric toothbrush. This can help parents set their children up for a lifetime of good oral health by encouraging the development of good brushing habits at an early age.
Electric toothbrushes also typically come with built-in timers, which not only help you make sure you are brushing for a full 2 minutes but may also pulse every 30 seconds to remind you to switch to the next quadrant of your mouth.
However, one major drawback of electric toothbrushes is their price tag. While most manual toothbrushes cost less than five dollars an electric toothbrush can cost anywhere from $20 to over $200. Electric toothbrushes have also not been found to remove significantly more plaque than manual toothbrushes, which means they may not always be worth the extra cost. Individuals who travel a lot may also find it difficult to charge electric toothbrushes that require wall plugs to charge since plug configurations vary from country to country. This means that frequent travellers may need to invest in a manual travel toothbrush in addition to their electric toothbrush.
How Do Electric Toothbrushes Work?
Electric toothbrushes, like manual toothbrushes, are an effective way to remove plaque and food particles from your teeth and gums. However, when you brush with a manual toothbrush you need to physically brush away these unwanted particles, whereas electric toothbrushes do the majority of the brushing work for you. Electric toothbrushes come in a variety of styles including rotary, sonic, ultrasonic, and ionic.
Rotary
Rotary toothbrushes are what most people think of when they picture electric toothbrushes. The bristles on a rotary toothbrush move in a circular motion and can do between 3000 and 7500 strokes per minute.
Sonic and Ultrasonic
Sonic toothbrushes use a side to side motion to clean our teeth and can move about 10 times faster than a rotary brush, averaging about 31,000 strokes per minute. Ultrasonic toothbrushes are similar to sonic toothbrushes, but their extremely fast side-to-side motion creates strong vibrations that physically dislodge plaque from the surfaces of your teeth.
Ionic
Ionic toothbrushes are different than other types of electric toothbrushes in the sense that their heads don't move at all. Instead, a low electric current is sent through the brush, allowing the bristles to attract plaque and pull it away from your teeth's surfaces.
Either Way: Brush Better
Whichever style of toothbrush you choose, make sure that you are brushing for at least two minutes, choose a toothbrush or toothbrush head with soft bristles, and use fluoride toothpaste. If you follow these recommendations, you should be able to keep plaque, and its hardened form tartar, at bay.
Brushing your teeth at least twice per day, and ideally after every meal, is an important part of your oral hygiene routine. If you are unsure about how to choose the right toothbrush, speak to your dentist or dental hygienist. They may be able to help you make a decision based on your unique dental needs.