What's the Best Way to Care for Your Smile?
In the age of the internet, it seems like there are a million and one ways to improve your wellbeing. For example, we have access to an abundance of information regarding oral health. How can you determine which advice is best to follow?
Well, your dentist will always be the best source of information concerning personal care. But generally speaking, you can't just ring them up whenever you have a question. Which toothpaste is better, whether mouthwash is really necessary, and other considerations might get forgotten between appointments.
We've taken the time to compose a general guide to the best one-size-fits-all oral hygiene routine. This blog post gives you a firm foundation to work with, whatever stage you're at in terms of oral health.
What Matters
Consistency
The best way to sustain your oral health is to be consistent with your oral hygiene. It won't matter what toothpaste you use if you only use it a few times a week.
If you have a habit of avoiding floss or forgetting to brush before bed, the best thing you can do for your smile is to correct it. Fixing these inconsistencies will go a very long way in protecting your teeth and mouth.
Quality Over Quantity
You might as well not brush if you aren't going to do it properly! The same goes for flossing – your teeth and gums will be much happier if you take the extra time.
It's easy to be exact by completing your oral hygiene routine in 4 quadrants:
Upper left
Lower left
Upper right
Lower right
Spend at least 30 seconds on each section of your mouth while brushing. You're less likely to miss a spot this way, and you'll be confident that you've been thorough.
When flossing, consider the same rule. Be sure to get each side of the gums between your teeth, and use a new bit of floss every time you move to a new tooth.
Visit Your Dentist
Last but not least, you should be sure that you are seeing your dentist for a check-up regularly. The Canadian Dental Association recommends having your mouth examined once every 6 months, but your dentist may suggest that you visit more or less frequently based on your oral health. Book your appointment with Artis Dental here.
We Recommend:
Now that we have what's truly important established, let's go over the fundamentals of a solid oral hygiene routine.
Morning & Night
As we touched on earlier, consistency is key. It's best to brush your teeth at least twice a day: when you get up in the morning, and before you go to bed at night.
Some individuals believe that brushing their teeth more frequently, such as after every meal, is best – but this can actually be detrimental to the health of your teeth. Brushing too frequently, or too hard, can prematurely wear down your enamel. If you're someone who prefers to brush more than 2 to 3 times a day, be sure to use a soft-bristled brush and gentle pressure.
Brush
When it comes to toothbrushes, there's a lot of selection. Usually, the choice comes down to a regular (manual) toothbrush versus an electric toothbrush. While electric toothbrushes have been proven to reduce more plaque, it should be noted that it's especially important to brush without too much vigour while using one. Being overzealous with your brushing will lead to eroded enamel.
With that in mind, it's also important to use a brush with soft bristles. In fact, this is so unanimously agreed upon by dentists that hard-bristled toothbrushes have been all but phased out of the market. This is because a softer bristle will provide hygiene and cleanliness without damage.
Floss
Though many find flossing to be an unpleasant chore, it's just as important as brushing. Regular, thorough flossing protects your oral health and could protect your heart, too. Individuals with gum disease, which is usually caused by poor brushing and flossing and a build-up of plaque, are at 2 to 3 times more risk of having a heart attack or stroke.
Regular flossing helps you to combat more than just plaque, however: gingivitis, cavities, bad breath, and discolouration are also kept in check through this habit.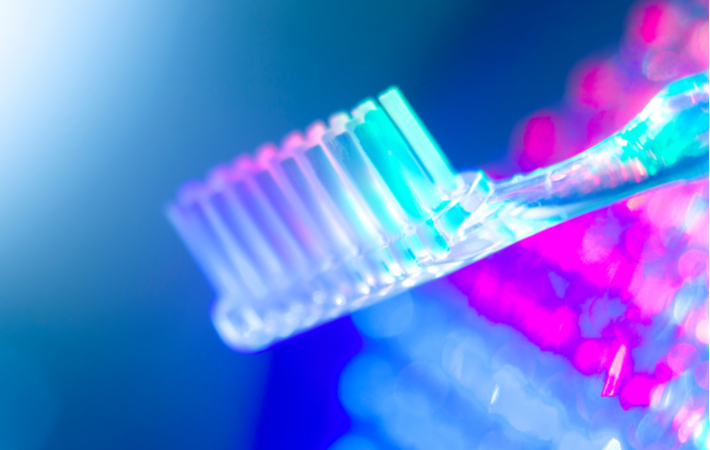 Additional Tips
Brushing and flossing are the hallmarks of a healthy mouth, but of course, you can always go further to improve.
Mouthwash
Using mouthwash is a great way to boost your oral hygiene routine. Cosmetic mouthwashes are the superficial option in comparison to therapeutic rinses. Therapeutic mouthwashes are designed to develop long-term oral health and can be selected based upon the needs of the patient.
Cleaning Your Tongue
It's also a good habit to clean your tongue – this can be extremely beneficial in reducing "bad" bacteria in your mouth. Using a tongue scraper is best, but you can also use your toothbrush to get the job done.
Lifestyle Choices
While not necessarily a part of your routine, there are many lifestyle choices you can make to benefit your oral health. Incorporating foods that are good for your teeth to your diet, as well as slowing down on sticky and sugary treats, can go a long way. Avoid smoking cigarettes or anything similar, and drink lots of water throughout the day.
With all of the above in mind, we hope that you can maintain a solid routine for a healthy smile. By using the measures outlined in this article, you can be sure that you've done a great job of protecting your oral hygiene dental health. For more great insight to your dental health, be sure to check out our other blog posts.